Presently, there is a notable jump in the usage of android applications in this world. Billions of smartphone users are present in the world, and this number is rising rapidly. Among them, a majority of these users operate smartphones having an Android OS. Therefore, it is vital to Learn Android Development using the Best Android Training Institute in Noida to build remarkable applications to represent your business or solve the purpose of building a specific android application.
If you are a student or candidate who is unable to decide whether you should Learn Android Development or not, then you are at the right place. This article discusses the reasons why you are required to Learn Android app development. Before that, we will discuss some basic things which you should know.
What is Android App Development?
Android is a popular OS having more than a billion users around the world. Android was developed as an OS in 2008; however, this has been under development since 2004. When anyone develops software that works on this OS, it is known as Android development. To develop this software, you are required to Learn Android app development. You can learn it by mastering the programming languages by enrolling in the Best Android Training Centre in India and getting complete detail for the development of the android apps from scratch.
Reasons for Learning Android App Development
As per one of the surveys, almost every business has its separate application. If you have the skill to develop an Android app, you can get a job with a great salary package. The intriguing reasons that are given below will help you to know why we should choose Android to develop a mobile app.
An Open Source Technology

Humongous Market Share

Variety of Job Opportunities

Android is easy to learn

Various Online Courses are Present

Higher Return on Investment (ROI)

Huge Job Demand for Android Developers

A Rapid increase in its usage due to high demand 
1. Open Source Technology
Android is one of the biggest OS, which is an open-source and Linux-based mobile OS. Open Source is a great feature of the Android operating system. This feature provides us with a guarantee that this code is freely available for any user. Therefore, the task to Learn Android Development is easy and feasible. When a user makes any changes to the source code, it must be available when a binary file is released. Therefore, we can say that Android internship provides greater freedom to all developers to let them adapt and modify the programming codes without any effort.
This feature makes it easy to use and develop Android applications by increasing its significance. You can learn more about it from the graphics that are given below.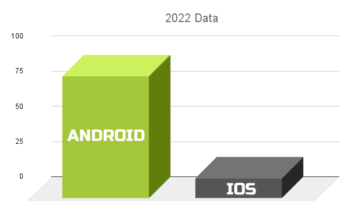 2. A Huge Market Share
Android is an operating system that has been the best-selling OS in the past decade. Its market share has increased substantially due to the utility of Android OS. As mentioned above, Android had an 87 percent share in 2019, which will grow in the future. This shows the importance to Learn Android Development and how it will contribute to the growth of any business by providing accurate information. The bigger reason is the massive use of devices operated by Android OS.
3. Various Job Opportunities
As there is rapid growth in the Android market, it is creating enormous job opportunities. From Android developers to Android associates, many job opportunities are available in India and the world. Thus, it is a great opportunity for you to grow rapidly in your IT career. You are only required to get proper training from the Best Android Training Institute in Noida, and you will be more than ready to get a good job.

Moreover, it is also possible for you to get a job paying you a very high salary. This is due to the fact that Android application development is one of the most in-demand skills. When you learn about the development of Android, it will provide a big boost to your Android career. In India, the average salary of Android developers is 5 LPA.
4. Easy to Learn
When you are looking to develop resources in Android OS, it majorly requires you to have knowledge of the JAVA programming language. To learn JAVA, it is best to get the Best JAVA Training in Noida as it is one of the easiest programming languages to learn, especially Object-oriented design. However, knowledge of JAVA is not completely necessary to master the skill of Android development.
In addition, Kotlin, C++, Python, JavaScript, and many others are also used in the development of Android applications. You can learn all of those with the help of the Best Android Training Center in India which will assist you in learning Android application development. However, the choice of selecting programming language depends majorly on the Android developer.
5. Learn through Online Course
All the students or aspirants looking to Learn Android Development can enjoy the facility to learn Android application development using online courses. All of These courses are available that clear many doubts you have related to Android development. These courses are available for both beginners and students having knowledge of advanced levels.
These courses will help you become an adept android app developer having complete knowledge of Android app development. You can also get the Best Android Training in Noida and get the training based on the online mode using the services of CodeSquadz. These online courses will also help you to upgrade all your skills relevant to Android.
6. Huge Demand for Android Developers
Today, every business wants to have its presence on the Android platform using its software. Thus, there is a growing demand to hire Android developers, and this demand is growing continuously. They usually look for developers having the ability to create user-friendly applications. Moreover, they also want to develop apps by paying a lesser amount. When you Learn Android Development, chances are high that you will end up getting a high paying job in one of the reputed IT companies.
According to one of the researchers, by 2024, there will be more than 1.35 million jobs for Android developers. This is important data that shows how the significance of Android developers is rising in India.
7. Increase in demand for Android developers due to high usage
This is the last reason to Learn Android Development, but this is very important as it allows you to know the increasing demand for Android developers. Do you know that having the skills to develop Android apps will empower you to get a good job with a handsome salary? This is due to the notable increase in the usage of Android applications due to the digitization that has revolutionized the digital world and the use of Android apps.
CodeSquadz is aware of the rising trend in the development of Android apps. Thus, we provide the Best Android Training in Noida to all so that they can flourish in the usage of Android application development career.
Now, we should look at some of the common queries that many students or aspirants have.

Is it Easy to Learn Android Programming?

Yes, it is easy to learn Android programming and become adept at using this technology. To begin the learning process, you are only required to have a basic knowledge of other programming languages, especially JAVA. You can Learn Android Development and master its development skills by learning for a duration of 1 to 1.5 years. Along with the programming languages, you also need to have knowledge of project structure and Android SDK.
To make it easier, you need guidance from an expert teacher who will tell you the necessary DOs and DONTs. Thus, we recommend you join our Best Android Training Center in India to learn the vital points regarding what you need to do and how to ace the learning of Android app development.

Is Android Development a Good Career?

Android development is one of the greatest fits for your future as it provides you with a promising career. The average salary of Android developers in India is 5 LPA. Once you have a remarkable experience of many years, then this salary package can increase beyond 10 LPA. Thus, you should Learn Android Development and stay updated with any recent changes or developments in the field of Android application development.
In addition, career opportunities are going to increase in the coming years as demand is increasing by leaps and bounds. In addition to your job, you can also take up some freelancing projects in Android and earn decent money.

Conclusion

From the reasons that are given above, it is clear that Android application development is a lucrative career. Your career will touch the sky when you have all the necessary skills to develop a career in Android development. Thus, you should Learn Android application development from the Best Android Training Institute in Noida. It will help you to increase your skills in Android and let you become an expert in developing and maintaining Android apps.