Java Training 21 July 2023
Batch Starting from 21st July 2023 - 12:00 PM to 01:30 PM
Java Training in Noida with IT Company
Java is indeed a great programming language that many businesses are using. Today, every leading company uses Java to develop an application for Android mobile apps and desktops. Moreover, this language is a robust one known for using an agile method to enhance business operations. Therefore, a business is picking professionals with adequate knowledge of Java.
At present, many working professionals and students aspiring to enter the IT world are aware of it. However, they lack a professional degree to prove their expertise in Java. Moreover, they also don't know all the important details of Java. Therefore, they want to get enrolled in the course of Java training in Noida. Here, they want to get vital insights into using Java for developing enterprise-grade applications. It helps use the services of CodeSquadz.
About Our Java Training in Noida
CodeSquadz is one of the leading companies offering Java training under the guidance of Manish Bhatia sir (20+ years of experience). We have designed this course for the purpose of developing unparalleled Java skills among the candidates. We are offering Java training in Noida that covers all the modules of Java. Therefore, any candidate or working professional will get adequate training with a primary focus on Java.
We have an outstanding Java training institute in Noida to provide proper information about Java. Undoubtedly, learning Java provides an excellent platform for various IT professionals and students aspiring to improve or step into the IT world. Undoubtedly, Java is vital to learn new things and helping anyone to flourish in the IT industry, with our course focusing on that.
Topics Covered Under This Java Course
In our exclusive course on Java, a student can get special training under the guidance of industry expert Manish Bhatia Sir. He is one of the best teachers to get Java training in Noida sector 63 and boost his career. Get more details about our exemplary Java training institute in Noida from the syllabus as given here:
Introduction to JAVA and its concepts

Language Fundamentals

Flow Controls

OOPS (Object-Oriented Programming System)

Packages and Arrays

String Handling and Garbage Collection

AWT (Abstract Window Toolkit)

Multi-Threading

Networking & Reflection

Advance Topics

Advance Threading

JAVA Platform Module System

J2EE and JDBC

Servlet, JSP, AJAX and JSON

Web Services (JAX-WS)

Rest Full Services (JAX-RS)

Mail API, XML, and Design Patterns
To gain extra details about our Java summer training program in Noida, get in touch with the CodeSquadz officials. This step will help you to get valuable information about our syllabus.
Helpful Frequently Asked Questions (FAQs)
How can I become a Java expert?
+
What can I do if I want to know additional details?
+
What is the scope after completing this advance Java training in Noida?
+
Who will be my trainer in this Java course batch?
+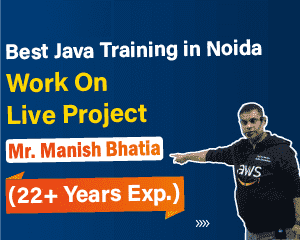 You will Get:
Live Project Training
Problem Solving Session
IT Company Exp. Certificate
Knowledge of AWS
Placement Assistance
24x7 Support