Internship 28 April 2022
On the 28th day of April 2022, CodeSquadz is commencing a new batch and encouraging more students to enroll in it. These students will obtain an opportunity to kick-start their careers. They can turn their life to become complete professionals and grow their careers through the outstanding teaching of expert Mr. Manish Bhatia. This is an excellent opportunity to get admission to the IT courses provided by CodeSquadz Education under the exemplary guidance of expert Mr. Manish Bhatia. You can obtain the assistance of a great mentor with experience of over 20 years to drive your career and become a valuable asset to enter in the good books of its recruiter. Many who are looking to start the journey as an IT professional should grab this opportunity to become more important.

Individual Courses
Core JAVA. Learn the basic concepts of JAVA in this course to begin your learning journey and make your career grow by creating general-purpose.

Advance JAVA. Start your career using the new and advance concepts of JAVA using our practical approach.

Spring Hibernate. Learn one of the most used JAVA EE frameworks, which is spring and hibernate (famous ORM framework), which businesses use the most.

Spring Boot & Micro Services. Spring Boot is a vital part of Spring Framework and is useful for developers. Microservices requires it to make the developer's work easy of developing and maintaining an application.

Full Stack with JAVA. Be an asset for a business to develop both the frontend and backend of an application. Learn concepts to build the entire web application with a complete technology stack.
Combo Courses
JAVA (Core & Advance). Learn introduction, fundamentals, Packages, String handling, Advance threading, Date API, JDBC, etc. in our combo course to kick-start your career.

Advance JAVA + Spring Hibernate. Use our combo course to master Advance JAVA and Spring Hibernate to excel in your IT career.

Spring Hibernate + Spring Boot + Micro Services. Use our industry training and exceptional teaching skills to learn Spring Hibernate + Spring Boot + Micro Services.

JAVA (Core & Advance) + Spring Hibernate. Get the core and advance JAVA skills along with Spring Hibernate to provide a boost to your career and become an adept professional.
What is CodeSquadz Education?
CodeSquadz Education is a leading education provider for developing web apps that make them proficient in coding & programming. Our professional education institute is part of AppSquadz Software, having more than 1000 clients around the world; CodeSquadz Education is a prominent name for successful mobile and web application development training. We employ the latest and most trending approach to train our students who opt for the training program. Learn the latest technologies using the excellent teaching concepts of expert Mr. Manish Bhatia (20+ years of experience).
Why Should I Opt For CodeSquadz Education Over Other Institutes?
CodeSquadz Education believes in imparting knowledge to all its students, so they become proficient in the relevant field of study. When other institutes focus on semi-complete language, we always believe in providing total education. This education works as a strong base on which a student can begin their career. Undoubtedly, this is helpful to facilitate them in becoming true professionals. So, they can stand apart from other professionals as a great asset for any business.
Limited seats are available! For additional details, contact us at +91-9289135096 or +91-9717279566. Moreover, drop us an email at- hr@appsquadzeducation.com or visit our corporate office at H-35, 1st Floor, Sector 63, Noida, 201301 for speaking directly with our professionals.
Helpful Frequently Asked Questions (FAQs)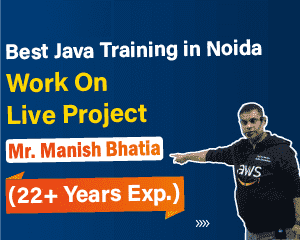 You will Get:
Live Project Training
Problem Solving Session
IT Company Exp. Certificate
Knowledge of AWS
Placement Assistance
24x7 Support